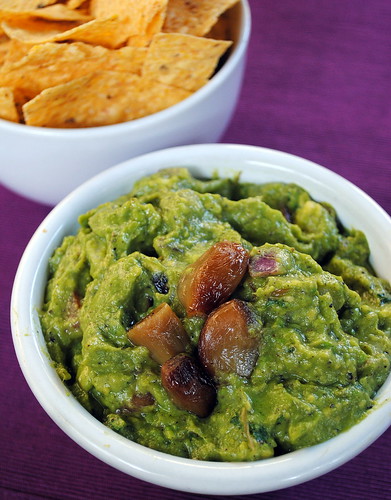 It took me nearly a quarter century to realize that avocados weren't absolutely vile, disgusting and gross. Up until the time I was about 24, I would act like a three year old anytime an avocado came near my food. If avocado or guacamole touched anything, I refused to eat it. Luckily I have since learned the error of my ways and have grown to love guacamole (I'm still working on plain avocado (it's totally a texture thing)). This is an ever so slight twist on my favorite guacamole recipe and I have to say it's pretty amazing.
This guacamole recipe is not for the faint of heart. If you don't love garlic, you should just skip this one, but if you're like me and insist on adding inappropriate amounts of garlic to everything, this will be the perfect guacamole for you! Roasting garlic might seem like a bit of a hassle to do, but really it couldn't be easier! And trust me, it's definitely worth it. The extra flavor it brings to the guac is out of this world.
Roasted Garlic Guacamole
Ingredients
2 whole garlic bulbs
3 large avocados
2-4 limes
1/2 large red or white onion, diced
3 Tablespoons chopped fresh cilantro
2 roma tomatoes, diced
1 jalapeño, finely diced (include seeds if you want heat!)
Kosher salt and freshly ground pepper, to taste (be generous)
Instructions
To Roast Garlic:
Heat oven to 400. With a sharp knife, chop off top 1/4 to 1/3 of garlic head, so that the bulbs are exposed. Place in small oven safe dish. Drizzle with olive oil and season with salt and pepper. Cover with aluminum foil and roast in a 400 degree oven for 45 minutes.
For the Guacamole:
Cut avocados in half, remove pit and scoop out flesh into large bowl. Squeeze in lime juice. Remove all the garlic cloves from bulbs and add to bowl. Mash together (you can use a wooden spoon, fork, potato masher, etc.).
Add cilantro, onion, tomato, jalapeño, and salt and pepper. Mix together until all the ingredients are well incorporated. Feel free to add more lime juice or salt and pepper to taste.